Empowering Early-stage Entrepreneurs
and Small Businesses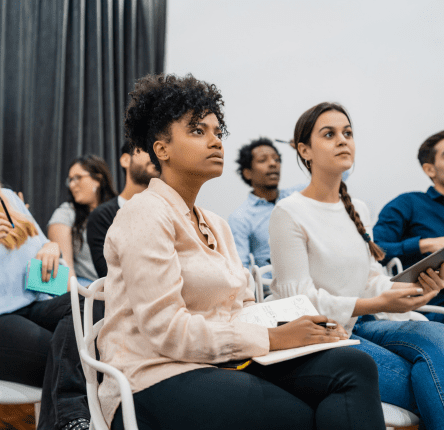 Technology literacy is crucial to propel and prepare our businesses for future growth. The Pandemic showed us how vulnerable our businesses were and those who were unable to make necessary adjustments were closed. Developed by Avarr Webbing for Black Wall Street USA IT National Council, Empower Black provides direct communication and IT Consultation to black and brown businesses while addressing their technology needs. By investing in cutting-edge technology, fostering collaborations, and embracing a future-oriented mindset, the IT Council aims to find and implement software solutions and training that benefit black and brown businesses throughout the world. The IT Council will play a pivotal role in shaping the future of the black and brown community by pushing the boundaries of what is possible.
With Empower Black, you'll gain access to our digital online Empower Black Courses, Monthly Virtual Meet-Ups and Ecosystem Rolodex.
Empower Black is a collaboration between Avarr Webbing, a leader in web development solutions, and industry experts passionate about fostering the growth of minority-owned businesses. Together, we are committed to supporting early-stage entrepreneurs on their journey towards success. Learn more and apply today.
The Empower Black Program presents The Ultimate Networking & Business Course for Small Businesses and Start-ups. Developed by Avarr Webbing for Black Wall Street USA, the 2 hour course is designed to empower early-stage entrepreneurs and small businesses with the knowledge and tools needed to navigate the challenges of growth utilizing technology. Learn how to effectively price products and services, attract business funding and grow your partnerships.
Designed to empower entrepreneurs like you, this courses' mission is to help you excel through the power of technology and strategic partnerships
What Will I Learn
1. How To Prepare Your Business Processes For Success Using Technology | CRM & Accounting
2. How To Price Your Business/Services
3. How To Get Business Funding
4. Think Outside of the Box | How To Build Partner Relationships that increase workflow
5. How To Goal Set
At the end of the course, you will receive a 3 month goal setter work sheet that will challenge you to clearly define and reach your quarterly goals.
Unlock your business's true potential with our exclusive virtual monthly meetup over Zoom. After the completion of one of our courses, join our dynamic community of small business owners and startup entrepreneurs, eager to connect and learn from each other's experiences. At our virtual luncheons, you'll have the opportunity to network with both previous and new classmates, fostering valuable connections that can help propel your business forward.
Immerse yourself in a diverse range of industries, gaining invaluable insights into industry trends, challenges, and opportunities. Collaborate with fellow entrepreneurs, exchanging ideas and strategies that can elevate your business to new heights.
But the benefits don't stop there. When your business is ready to expand regionally or nationally, imagine having a warm introduction from a trusted classmate who has already built a relationship with your target contact. It's far more impactful than reaching out and making the introduction yourself.
Don't miss out on this exclusive opportunity to gain knowledge, connections, and a supportive community that will empower your business journey. Join us today and experience the difference firsthand.
Upon completing our course, you'll gain exclusive access to a dynamic directory of fellow attendees. Forge meaningful connections and establish valuable relationships with like-minded entrepreneurs beyond just your class. Connect with individuals from previous and future classes, expanding your network exponentially.
Imagine having a pool of contacts at your fingertips when your business is ready to expand. With access to fellow classmates and previous classes, you'll have incredible resources for collaboration, partnerships, and growth. Imagine the networking possibilities!